Our energy use, production and source are equally important. When our buildings are more efficient, we consume less energy. The less energy we need, the less we use, which is better for the environment. Transforming buildings to be more energy efficient can play a major role in reducing the impact of climate change.
Save Energy Now!
Check It Out! Home Energy & Water Savings Toolkit

Literally, visit your library and – just like a book – check out the new San Mateo County Check It Out! Home Energy and Water Saving Toolkit. It's stocked with supplies and measuring devices that will help you lower your utility bills while saving precious resources. You get to keep one LED light bulb, two faucet aerators, one low-flow showerhead, a packet outlet gaskets, a package weather stripping and water leak detection tablets. Devices that enable the measurement of energy and water use are to be returned to the library in the toolkit box, and include:
A Kill-A-Watt® Meter for measuring the energy use of appliances and equipment
A thermal detector that checks for heat loss through windows, vents and doors
A special thermometer that helps set refrigerators and freezers to appropriate temperatures
A water flow rate bag that measures the true rate of flow from faucets and showerheads
The accompanying handbook shows you step-by-step how to measure the energy use and water use of appliances and equipment in your home, and then shows you to reduce that energy and water use. Anyone with a valid library card can borrow a toolkit for up to three weeks from all branches of the San Mateo County and Peninsula Library System.
Not a do-it-yourselfer? Residents can also achieve energy savings with the help of energy audits and technical assistance offered at no cost by or through PG&E's Energy Savings Assistance Program at 800-743-5000 or PGE.com/myhome.
This program is funded by California utility customers and administered by PG&E under the auspices of the California Public Utilities Commission.
Peninsula SunShares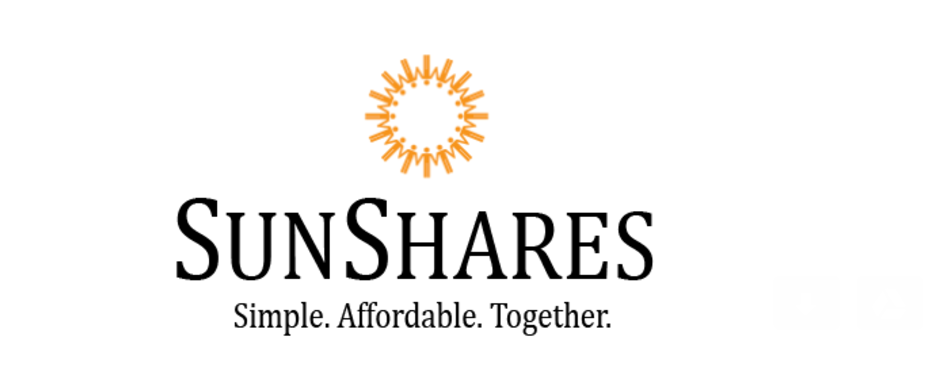 County of San Mateo is excited to announce that SunShares is back again this year!
SunShares is a renewable energy program making it easier and more affordable for Bay Area residents to go solar or purchase an electric vehicle. SunShares offers discounts, free workshops and helps renters learn more about their clean energy options.
To sign up or for more information, please visit: www.bayareasunshares.org.
If you've ever thought about installing solar or buying an electric vehicle but don't know where to start, SunShares is here to help! SunShares pools the buying power of participants to get discounted pricing from solar companies and vehicle manufacturers.
County of San Mateo is participating in Bay Area SunShares to help support the clean energy goals of the County, engage our residents and businesses in this limited time community offer and demonstrate our commitment to sustainability.
How SunShares works
Workshops are held to help residents and businesses understand the basics of solar, electric vehicles, financing options, options as a renter and answer questions.
Three pre-vetted solar installers were selected and will work with you to schedule your home solar evaluation. Register by November 10th to receive a no-cost, no-obligation solar proposal.
Sign your solar contract by December 31st, 2017 to move forward with solar installation and take advantage of the discounted program pricing.
Preview the exciting electric vehicle offerings. To see the deals and to receive your discount code, register at  www.bayareasunshares.org by November 10th, 2017.
It's that simple!
Should you have any questions, please contact BC3 at: sunshares@bc3sfbay.org
For Residential Property Owners
Energy Efficiency Upgrades for Property Owners
Our energy use, production and source are equally important. When our homes are more efficient, we consume less energy. The less energy we need, the less we use, which is better for the environment. Currently, residential buildings represent 18% of San Mateo County's carbon footprint. We all have the power to reducing our carbon footprint at home- from turning off the lights when leaving a room to upgrading to more efficient home energy systems. The County of San Mateo is collaborating with the Bay Area Regional Energy Network (BayREN) to offer rebates and assistance to homeowners and multi-family property owners for energy-efficient home improvements. In this section you'll find information on educational and incentive programs designed to make saving energy easier and more affordable.
Single Family Homeowners
Through Energy Upgrade California® Home Upgrade in the Bay Area, homeowners can receive rebates from $1,000 to $6,500 for improvements.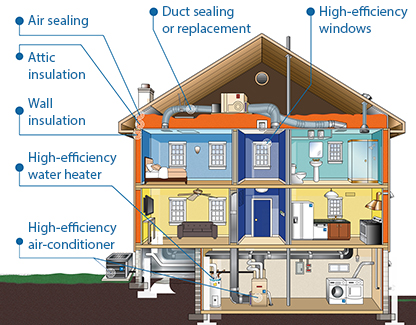 Free Home Upgrade Advisors are available to provide one-to-one assistance to help homeowners through every step of the upgrade. Call 866-878-6008 or submit a brief form on the BayAreaEnergyUpgrade.org website to contact a Home Upgrade Advisor or find a participating contractor. Act now! Rebates may only be available through December 2017.
Multifamily Property Owners
Energy Upgrade California's Bay Area Multifamily Building Enhancements offers cash rebates and no-cost energy consulting for multifamily property owners that undertake energy and water upgrades for their buildings. Complete a simple interest form to get started. This program is open to multifamily buildings with five or more attached dwelling units in the Bay Area Learn more at BayAreaMultifamily.org.
For Business Owners
San Mateo County Energy Watch

The San Mateo County Energy Watch program is a partnership between PG&E and the City/County Association of Governments of San Mateo County. The SMC Energy Watch program provides energy efficiency services and incentives to public agencies, schools, non-profit organizations, lower-income residents, and businesses. The program also assists local governments with greenhouse gas emission inventories and climate action planning and implementation.

Through the SMC Energy Watch program, customers are presented with a detailed retrofit report that recommends a list of energy efficiency upgrades, the anticipated energy savings, total cost of retrofit, and rebate information for energy efficient installations. Some design and engineering services may also be available. Examples of energy efficiency retrofits include: efficient and improved lighting, occupancy and daylight sensors, LED exit signs, higher efficiency boilers (water heaters) and HVAC or refrigeration energy efficiencies.

The SMC Energy Watch program offers rebates that generally cover 30-100% of the total cost. Installations can be completed by the customer, or by pre-approved contractors, and each job is inspected to ensure quality. Sign up today for an energy audit at smcenergywatch.com/get-energy-audit!

Find out more information about the San Mateo County Energy Water program at smcenergywatch.com

Financing
PACE Financing
To help finance energy upgrades, water conservation, and more, homeowners and commercial property owners throughout the County can take advantage of Property Assessed Clean Energy (PACE) financing, an affordable, long-term financing option that is repaid on your property taxes over a time period up to 20 years. Property owners receive 100% financing of improvement costs and projects can be cash-flow positive from day one. No up-front cash investment is required.

PACE financing can fund solar installation, water conservation, energy efficiency, and more. Find out more about which PACE providers are available in your jurisdiction: