Special districts are a form of local government created by a local community to meet a specific need. When residents or landowners want new services or higher levels of existing services, they can form a district. We also have areas that are not technically a formal district but have formed to address a specific purposes and are only used for those types of services.
Pescadero Transfer Station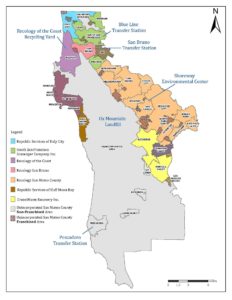 The location of the Pescadero TS/MRF is off Bean Hollow Road in Pescadero, CA 94060. The County of San Mateo owns the site. This Transfer Station serves the South Coast community.
Current Gate Rates (PDF)
County Service Area No. 8
County Service Area No. 8 (North Fair Oaks) is governed by the San Mateo County Board of Supervisors, and was formed to pay for such services as Garbage collection, Fire services north of the Union Pacific railway line and other community services.
Map of the service area (PDF)
For garbage collection services CSA No. 8 (North Fair Oaks), please go to our Resources page and search for the category "CSA No. 8 (North Fair Oaks)".
County Franchised Area
The County Franchised Area was formed in response to Garbage collection services provided to residents. Its formation coincided with the new hauling contract for the South Bay Waste Management Authority services (www.rethinkwaste.org).
Unincorporated Franchised Areas in the SBWMA
Map of the unincorporated areas in the SBWMA
(PDF)
For Other Solid Waste (Garbage) Districts in our County
The Process for Creating a New Franchised Area
Request to the Board of Supervisors that the service area be added as a franchise area. Refer, Public Resource Code, Part 8., CHAPTER 3. FRANCHISE BY COUNTIES, 49200-49205 for more information.
Board Approval
Letter to Homeowners