The County of San Mateo Board of Supervisors adopted the Disposable Food Service Ware Ordinance (Ordinance) on February 25, 2020, and it went into effect in March 2020. This Ordinance aims to regulate and reduce the amount of disposable food service ware that is used by food facilities in unincorporated areas of San Mateo County.
The Ordinance requires:
Most disposable food service ware to be non-plastic and compostable (a.k.a. made from natural fiber such as paper, sugarcane, wood, bamboo, wheat stalk, etc.);
Larger disposable food service ware to have little/no harmful fluorinated chemicals; and
Regulated distribution of disposable food service ware accessories (e.g., smaller side items like straws, utensils, stirrers, napkins, condiment packets, etc.).
Additional information about the requirements of the Ordinance is available in the Summary Sheet.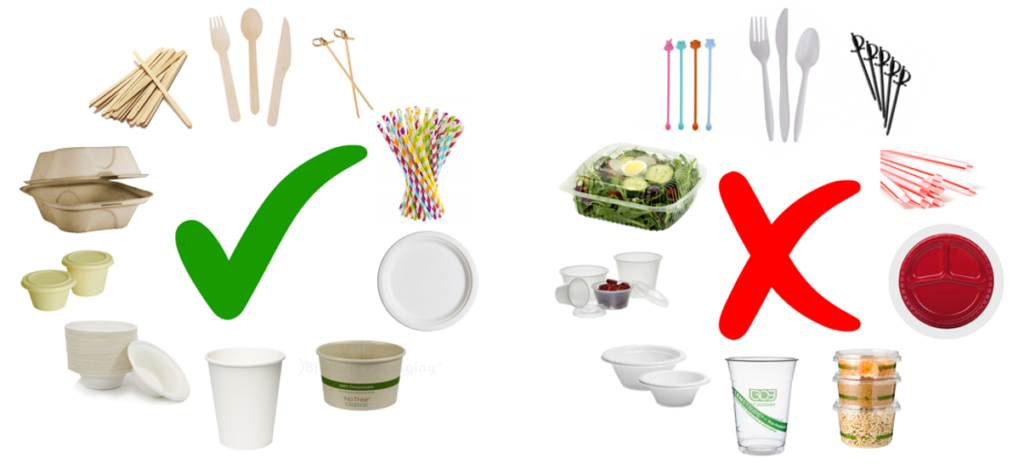 Countywide Effort
Cities within the county have the option of adopting the County's Ordinance, in which case, food facilities within the city will need to comply.
As of May 2020, the following jurisdictions in the county has adopted the County's Ordinance as a model ordinance:
City of South San Francisco
City of Burlingame
What Happens Now?
The Ordinance will become operational and start being enforced in March 2021, or in one year, for food facilities that operate in unincorporated areas of San Mateo County. This one-year delay is to provide our food facilities time to use up existing stock of items that will not be in compliance. Similarly, food facilities in cities that adopt the Ordinance will also have one-year from their cities' Ordinance effective dates to comply.
The County of San Mateo Office of Sustainability will continue to communicate with our food facilities in the near future to provide additional information, including education and outreach materials to help meet the new requirements.
Resources for Food Facilities
Questions?
Please email sustainability@smcgov.org or call 888-442-2666.