Our energy use, production and source are equally important. When our buildings are more efficient, we consume less energy. The less energy we need, the less we use, which is better for the environment. Transforming buildings to be more energy efficient can play a major role in reducing the impact of climate change.
Check It Out! Home Energy & Water Savings Toolkit

Literally, visit your library and – just like a book – check out the new San Mateo County Check It Out! Home Energy and Water Saving Toolkit. It's stocked with supplies and measuring devices that will help you lower your utility bills while saving precious resources. You get to keep one LED light bulb, two faucet aerators, one low-flow showerhead, a packet outlet gaskets, a package weather stripping and water leak detection tablets. Devices that enable the measurement of energy and water use are to be returned to the library in the toolkit box, and include:
A Kill-A-Watt® Meter for measuring the energy use of appliances and equipment
A thermal detector that checks for heat loss through windows, vents and doors
A special thermometer that helps set refrigerators and freezers to appropriate temperatures
A water flow rate bag that measures the true rate of flow from faucets and showerheads
The accompanying handbook shows you step-by-step how to measure the energy use and water use of appliances and equipment in your home, and then shows you to reduce that energy and water use. Anyone with a valid library card can borrow a toolkit for up to three weeks from all branches of the San Mateo County and Peninsula Library System.
Not a do-it-yourselfer? Residents can also achieve energy savings with the help of energy audits and technical assistance offered at no cost by or through PG&E's Energy Savings Assistance Program at 800-743-5000 or PGE.com/myhome.
This program is funded by California utility customers and administered by PG&E under the auspices of the California Public Utilities Commission.
HomeIntel's Smart Audit
Don't know where to start looking for energy waste in your home? The HomeIntel program is complementary to this toolkit, and is available at no cost to Peninsula Clean Energy and PG&E customers. Sign up for HomeIntel's Smart Audit, a web-based app that analyzes your smart meter data to determine your home's unique energy profile and creates a custom energy savings plan that helps you identify priority areas of potential energy waste.
PG&E's Energy Savings Assistance Program
Not a do-it-yourselfer? Income-qualified residents can also achieve energy savings with the help of energy audits and technical assistance offered at no cost by or through PG&E's Energy Savings Assistance Program at 800-989-9744 or visit the website.
Webinar: A Virtual Tour of an Energy Efficient Smart Home
This Virtual Home Tour will introduce you to trending smart home technologies, clean energy options, and complementary rebate and financing programs that San Mateo County residents can utilize to maximize their home's performance, save energy, lower utility bills, and increase home comfort and indoor air quality.
Energy Efficiency Upgrades for Property Owners
Our energy use, production and source are equally important. When our homes are more efficient, we consume less energy. The less energy we need, the less we use, which is better for the environment. Currently, residential buildings represent 18% of San Mateo County's carbon footprint. We all have the power to reducing our carbon footprint at home- from turning off the lights when leaving a room to upgrading to more efficient home energy systems. The County of San Mateo is collaborating with the Bay Area Regional Energy Network (BayREN) to offer rebates and assistance to homeowners and multi-family property owners for energy-efficient home improvements. In this section you'll find information on educational and incentive programs designed to make saving energy easier and more affordable.
Single Family Homeowners
Through Energy Upgrade California® Home Upgrade in the Bay Area, homeowners can receive rebates from $1,000 to $6,500 for improvements.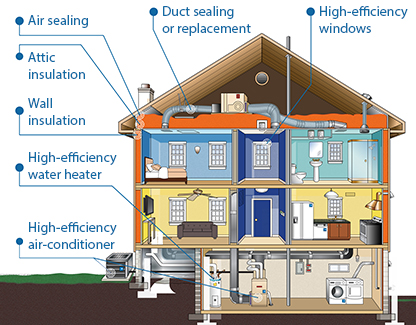 Free Home Upgrade Advisors are available to provide one-to-one assistance to help homeowners through every step of the upgrade. Call 866-878-6008 or submit a brief form on the BayAreaEnergyUpgrade.org website to contact a Home Upgrade Advisor or find a participating contractor. Act now! Rebates may only be available through December 2017.
Home Energy Score
Home Energy Score is a home energy rating developed by the U.S. Department of Energy (DOE) that provides a standardized method for quickly assessing a home's envelope and major energy systems. The rating on a house is comparable to the MPG rating on a car. It rates the home on a scale of 1-10, based on how much energy the home is expected to use assuming standard operating conditions and occupant behavior. It also provides homeowners with suggestions for improving their homes' efficiency.
What You'll Learn:
Facts about your home's energy use
Your home's current Score based on energy use
Recommendations to improve comfort and lower your energy bills, including:

Adding more insulation and fixing air leaks
Replacing outdated heating or air conditioning systems
Replacing or weather stripping windows and doors
Sealing leaky air ducts
What You'll Get:
A Home Energy Score Assessor will collect information during a home walk-through and score your home on a scale of 1 to 10. A score of 1 indicates the home needs extensive energy improvements, where as a score of 10 indicates that the home has excellent energy performance.
What to do with a Score:
Once you get your Score, you can get help prioritizing energy upgrades for your home by consulting with your contractor, or by contacting a no-fee, independent Home Upgrade Advisor or 866-878-6008. Your contractor or Advisor can help you identify the smartest investments and access the various rebates and incentives that are available in your area.
For more information, visit the San Francisco Bay Area Home Energy Score website or the DOE Home Energy Score website.
Visit a sample Home Energy Score report here.
Energy Upgrade California® Home Upgrade provides assistance and incentives for home improvement projects that can reduce energy use and make homes more comfortable. This statewide program is managed locally by utilities and regional energy networks and directed by the California Public Utilities Commission in collaboration with the California Energy Commission. Funding comes from utility customers under the auspices of the California Public Utilities Commission. Incentives are offered on a first-come, first-served basis and are effective until funding is expended or the program is discontinued. Programs may be modified or terminated without prior notice. ©2017 California Public Utilities Commission and California Energy Commission. Trademarks are property of their respective owners. All rights reserved.
Multifamily Property Owners
Energy Upgrade California's Bay Area Multifamily Building Enhancements offers cash rebates and no-cost energy consulting for multifamily property owners that undertake energy and water upgrades for their buildings. Complete a simple interest form to get started. This program is open to multifamily buildings with five or more attached dwelling units in the Bay Area Learn more at BayAreaMultifamily.org.
San Mateo County Energy Watch

The San Mateo County Energy Watch program is a partnership between PG&E and the City/County Association of Governments of San Mateo County. The SMC Energy Watch program provides energy efficiency services and incentives to public agencies, schools, non-profit organizations, lower-income residents, and businesses. The program also assists local governments with greenhouse gas emission inventories and climate action planning and implementation.
Through the SMC Energy Watch program, customers are presented with a detailed retrofit report that recommends a list of energy efficiency upgrades, the anticipated energy savings, total cost of retrofit, and rebate information for energy efficient installations. Some design and engineering services may also be available. Examples of energy efficiency retrofits include: efficient and improved lighting, occupancy and daylight sensors, LED exit signs, higher efficiency boilers (water heaters) and HVAC or refrigeration energy efficiencies.
The SMC Energy Watch program offers rebates that generally cover 30-100% of the total cost. Installations can be completed by the customer, or by pre-approved contractors, and each job is inspected to ensure quality. Sign up today for an energy audit at smcenergywatch.com/get-energy-audit!
Find out more information about the San Mateo County Energy Water program at smcenergywatch.com

Green Business Spotlight: New England Lobster Market & Eatery
The next time you get a craving for a lobster roll or crab sandwich this side of the coast, you might want to try one of San Mateo County's certified green businesses, New England Lobster Market & Eatery, in Burlingame. The company started selling lobsters wholesale and to the public across the Bay Area in 1987. After its success with the "We're On A Roll" food truck in South San Francisco in 2011, New England Lobster opened an eatery and market in Burlingame the following year. The restaurant offers a "crack-it-yourself" crustacean experience, with lobster served right out of the pot, says owner Marc Worrall.
The New England Lobster Market & Eatery earned its Green Business Certification in October 2017, thanks to its efforts to save energy and water, including:
upgrading all its pumps and refrigeration to new energy-efficient models
replacing its lighting with LEDs and energy-efficient fixtures through San Mateo County Energy Watch's turnkey, direct-install lighting program for small businesses and nonprofits
painting its roof white and installing insulation and ceiling fans to reduce the use of air conditioning
installing low-flow toilets in customer restrooms
The eatery has also reduced its waste stream by:
reusing all of its packaging for incoming and outgoing shipments of shellfish
packing to-go orders in compostable take-out containers
composting food scraps from its kitchen and eatery
purchasing benches and tables for the eatery from reclaimed wood
"New England Lobster has been practicing green ever since green was [just] a color," Worrall says.  "It's important to participate in protecting the environment as best we can. We all need to do our part and reuse resources whenever possible."
The County's Green Business Program recognizes small- to medium-sized local businesses that operate in an environmentally responsible way. To become a certified green business, organizations must receive audits from, and consultations with, the County and other local agencies to make sure they not only comply but also exceed environmental regulations. Many businesses adopt new programs or undergo retrofits to attain Green Business Certification, such as establishing a food scrap composting program or replacing their lighting with more efficient bulbs. Certification lasts three years.
PACE Financing
To help finance energy upgrades, water conservation, and more, homeowners and commercial property owners throughout the County can take advantage of Property Assessed Clean Energy (PACE) financing, an affordable, long-term financing option that is repaid on your property taxes over a time period up to 20 years. Property owners receive 100% financing of improvement costs and projects can be cash-flow positive from day one. No up-front cash investment is required.
PACE financing can fund solar installation, water conservation, energy efficiency, and more. Find out more about which PACE providers are available in your jurisdiction: