Household Hazardous Waste (HHW)
HHW includes items like batteries, paints, cleaning chemicals, medicine, and electronic wastes. It is illegal to put these items into the trash.
The items below can be dropped off at a number of locations throughout the county. For options on how to properly dispose of these items check out our handy Reduce, Reuse and Recycle Guide or visit www.RecycleStuff.org.
Motor oil
Oil filters
Antifreeze
Car batteries
Latex paint – 

The

California Paint Stewardship PaintCare program

accepts latex and oil-based paint for recycling from residents and businesses at no cost.

Fluorescent lamps (including compact fluorescents)
Household batteries 

– 

These are collected at the curb by all garbage companies presently serving San Mateo County. Place batteries in a small sealed bag and put the bag on top of your recycling container (except if you live in Millbrae, Brisbane and South San Francisco, please place the bag into the recycling cart under the blue lid on top of the bottles and cans).
If you have additional items along with these to get rid of, visit the County of San Mateo's Household Hazardous Waste website to make an appointment.
Curbside Collection
Some curbside garbage and recycling haulers will accept certain HHW and universal waste on your regular recycling days, such as batteries, and used motor oil.  Reduce waste by recycling accepted items in the blue bin if you have curbside collection. Check our hauler map for more information about which curbside services for recycling hazardous wastes such as batteries and motor oil are available in your area.
Electronics
Electronics are not accepted at Hazardous Waste Events. There are several electronics recycling centers in San Mateo County. If the item is under 5 years old, it can often be donated to an electronics refurbishing/reuse program. For practical purposes, in terms of current regulations, it is illegal to throw out practically all electronics. Recyclestuff.org shows where to recycle (or donate) electronics.
COUNTY ELECTRONIC RECYCLING CERTIFICATION (UNINCORPORATED SAN MATEO COUNTY)
The County requires that any device powered by electricity (including batteries) that contains circuitry (e.g. TVs, electronic games, toys, lamps, curling irons and toasters) identified by the State of California as hazardous waste or universal waste, is responsibly recycled. Improperly processed electronics can pollute the air, soil and groundwater. It can contaminate the solid waste stream and expose solid waste workers to harmful material and working conditions.
County ordinances also require that all collectors of recyclable electronics in the unincorporated areas of San Mateo County process their electronics at certified electronics recyclers.
Below is a list of County-approved electronics certification programs recognized by this ordinance:
e-Stewards®: a standard that incorporates all the requirements of ISO 14001, enhanced to address health and safety, data security, reuse and refurbishment, recycling chain accountability, export restrictions and more.
Responsible Recycling (R2): a standard that addresses environmental protection, health and safety, data security, reuse and refurbishment, recycling chain accountability, export restrictions and more.
Having an electronics recycling collection event in unincorporated county areas?
County ordinance requires that at least 10 days before any electronics recycling collection event, the collector must notify the County by providing the following information:
Contact information including name, address, telephone number, and website.
The date and location of the electronics recycling collection event.
The certified electronics recycler(s) that all collected electronics will be delivered to.
Click here to download the Notification Form. Please fill out the form and submit it by email to sustainability@smcgov.org or by mail to: Waste Reduction Program, Office of Sustainability, 455 County Center, 4th Floor, Redwood City, CA 94063.
Additionally, any public notices or advertisements for the collection event must include the information listed above (contact information, date & location of event, name of certified electronics recycler). This information must be prominently posted at all electronics collection events.
For a list of collectors or certified processors to recycle (or donate) electronics, please visit our database. Use search categories of Electronics and Computer Equipment or you can call the Office of Sustainability Hotline at 1-888-442-2666. Click here to see the full text of the ordinance.
Universal Waste Regulations
Universal wastes are hazardous wastes that are generated by several sectors of society, rather than a single industry. Beginning February 8, 2006 households and small businesses were no longer allowed to put universal wastes in the trash.
Universal waste includes:
all household batteries
fluorescent and other mercury containing lamps*
electronic items with a circuit board (for practical purposes, all electronics)
non-empty aerosol cans
mercury thermostats
The San Mateo County Household Hazardous Waste (HHW) program collects these wastes from households and small businesses. More information about these wastes and the new regulations is available from the State of California Department of Toxic Substance Control (DTSC).
Report Illegal Dumping
Report It! SMC
"Report It! SMC" empowers residents to report illegal dumping and graffiti in unincorporated areas of San Mateo County. This tool allows residents and visitors to report issues quickly and easily. You can even take photos of issues and submit them on your phone. These reports are then forwarded directly to County departments to respond and address.
To use the Web reporting tool above:
Make sure the Report tab is selected. Enter the address or use the map marker to navigate to the area where the issue you want to report is located on the map. (Use the controls in the upper left corner to move the map around the window or zoom in and out.).
Once you have indicated the address or mapped the location of your issue, click next.
Select a service request issue from the drop-down menu. Once you've entered a service request, you can then fill out a more detailed description of the issue and even attach a photograph. After this is complete, create an account where you can earn civic points, however you must enter a valid email address! After you've completed all the fields, press submit to create a public report of your issue!
You can also report issues from your smart phone or tablet. Click on one of the links below to download the mobile app:
Adopt-a-Block Program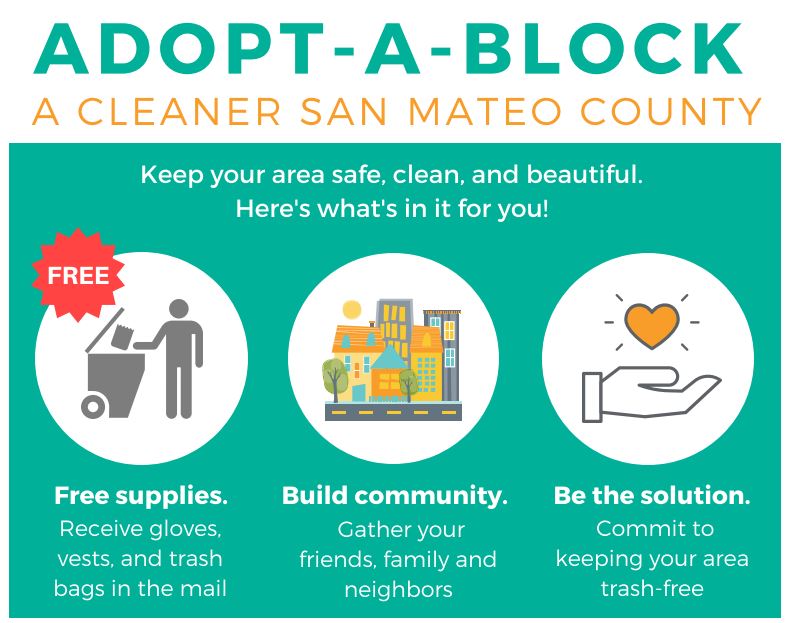 San Mateo County's Adopt-A-Block program provides an opportunity for citizens to beautify their community by adopting streets in their neighborhood and regularly cleaning them up. We welcome you as a volunteer! Volunteers are critical to our success, and we are grateful for the time and service you contribute. We will award volunteers a Commendation Certificate upon completing at least six months of the program.

Program Requirements
Adopt a street or block in an unincorporated area of San Mateo County
Commit to cleaning up at least once a month 
Must be at least 14 years old to volunteer without adult supervision
Flyer (English)
Flyer (Spanish)
Email adoptablocksmc@gmail.com to adopt your block today!