The Bay Area has some of the worst traffic conditions in the state, and driving to work, school, and errands each day can have negative impacts on your health, your wallet, and the environment.  Luckily, with only a couple of small changes, you can make a big impact. By changing at least one trip to walking or biking, you can improve your health, save money on gas and vehicle maintenance, and prevent the release of harmful greenhouse gas emissions. Our Biking in San Mateo County Brochure has helpful tips in English and Spanish to make your ride safer, easier, and more fun!
The County's Active Transportation Program supports projects, policies and programs that reduce traffic congestion and encourage more bicycling and walking.
Unincorporated San Mateo County Active Transportation Plan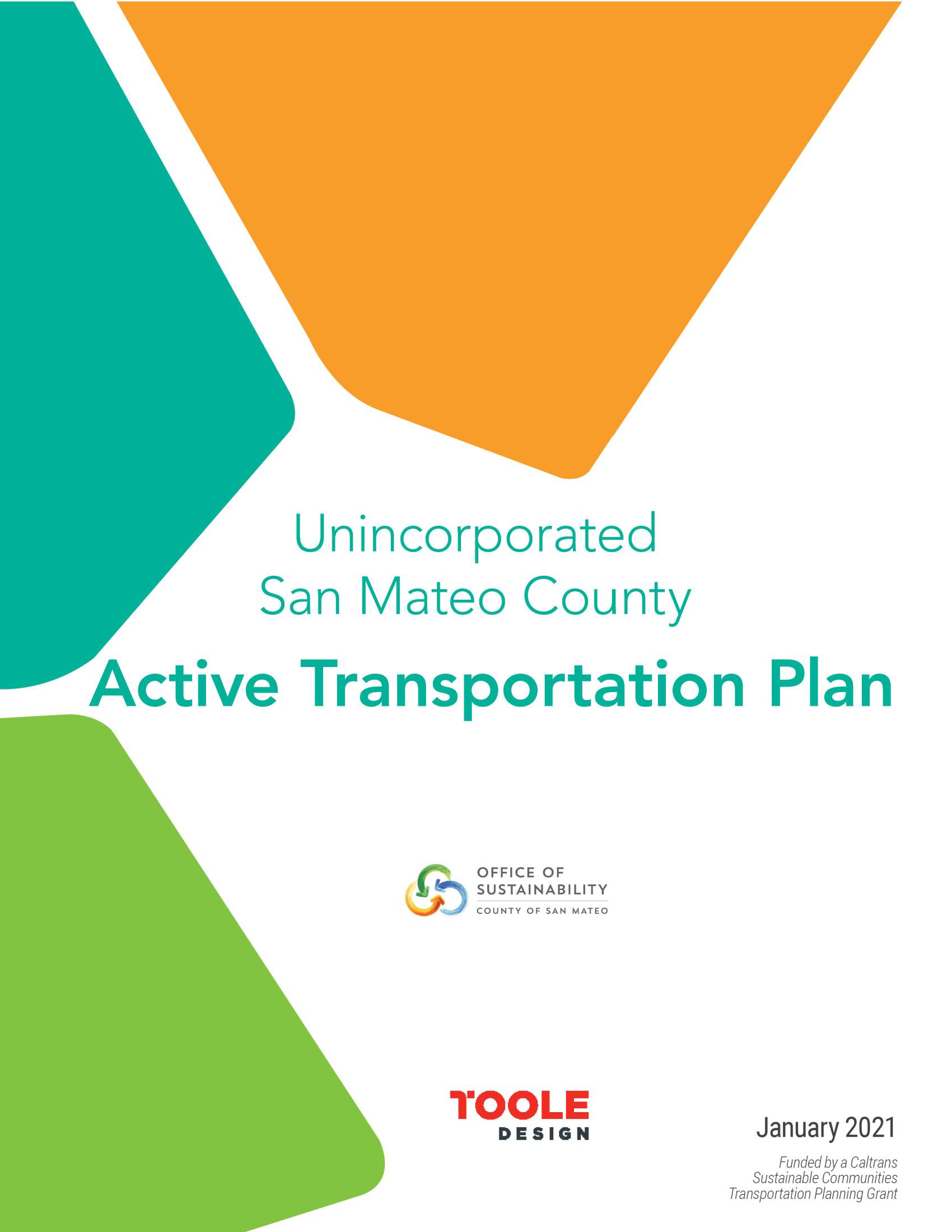 The 2021 Unincorporated San Mateo County Active Transportation Plan is the culmination of nearly two years of robust community engagement, existing conditions and data analyses, and planning and design work. The 2021 Plan was approved by the County Board of Supervisors on February 9, 2021 and serves as a framework to improve active transportation conditions for people walking and biking throughout unincorporated county communities.
Stay up to date on project implementation by subscribing to Active Transportation Updates on the Office of Sustainability's "subscribe" page, and by tuning into the San Mateo County Bicycle and Pedestrian Advisory Committee Meetings (see below).
2021 Unincorporated San Mateo County Active Transportation Plan Documents:
Questions? Email OOS_walkbikesmc@smcgov.org
Annual San Mateo County Bicycle and Pedestrian Count
The National Bicycle and Pedestrian Documentation (NBPD) Project is a nationwide effort to provide data collection and ongoing data for use by planners, governments, and the general public. The goal is to provide accurate and consistent documentation on usage and demand, and encourage investments in transportation modes other than the private automobile.
Thank you to all the volunteers that participated in the 2019 count! Check out the count results from 2019, 2018, 2017 and 2016 on the interactive count map. In order to comply with the County's COVID-19 guidelines, we didn't conduct a count in 2020. Share your anecdotal evidence of people walking and biking with us via email instead! Send us stories, photos, and drawings to OOS_walkbikesmc@smcgov.org.
County Bicycle and Pedestrian Advisory Committee
The San Mateo County Bicycle and Pedestrian Advisory Committee (SMCBPAC) reviews policies, programs and priorities in unincorporated areas of the county to improve walking and bicycling. Committee members talk to residents to get their input on walking and bicycling issues. The feedback we get from you allows us to make recommendations to the Board of Supervisors. Let's work together to make San Mateo County a better place to walk and bike!
The SMCBPAC meets on the third Thursday of even numbered months at 7:00 pm. Pursuant to the Shelter in Place Orders issued by the San Mateo County Health Officer
and the Governor, the Governor's Executive Order N-29-20, and the CDC's social
distancing guidelines which discourage large public gatherings, BPAC meetings will be held by virtual videoconference via Zoom. Please check the Agendas below for Zoom details corresponding to each BPAC meeting. If you'd like to be notified when meeting Agendas are posted, email Joel Slavit at jslavit@smcgov.org.
Meeting Date
Meeting Materials
June 17, 2021
Meeting Agenda Packet
Presentation on San Mateo County Local Road Safety Plan
Presentation on SMCOE Safe Routes to School
Presentation on County Updates: Active Transportation Implementation Progress
April 15, 2021
Meeting Agenda Packet
BPAC Meeting Process and Roles Presentation
Caltrans Bay Area Bike Highway Study Presentation
AB 122 Draft Letter of Support
February 18, 2021
Meeting Agenda Packet
Presentation on Enforcing Laws for Cycling Safety
Final Approved BPAC Work Plan 2021
Final BPAC Neighborhood Responsibilities 2021

December 17, 2020
Meeting Agenda Packet
Draft Final Unincorporated San Mateo County Active Transportation Plan
Draft Final Unincorporated San Mateo County Active Transportation Plan Appendices
Presentation on Sheriff's Office Safety Education, Engagement & Enforcement Efforts
November 17, 2020
Meeting Agenda Packet
Draft Work Plan 2021
October 15, 2020
Meeting Agenda Packet
Public Comments Received Regarding Kings Mountain Road
October 1, 2020 public correspondence received regarding the Alameda de las Pulgas
Presentation on SMC Unincorporated Active Transportation Plan
August 20, 2020
Meeting Agenda Packet
Presentation on the C/CAG Comprehensive Bicycle and Pedestrian Plan Update
Presentation on the Santa Cruz Avenue/Alameda de las Pulgas Improvements Study
Signed Letter on the Santa Cruz Avenue/Alameda de las Pulgas Safety Improvements
June 18, 2020
Meeting Agenda Packet
Presentation on the Bay to Sea Trail
May 21, 2020
Meeting Agenda Packet
Presentation on SMC Unincorporated Active Transportation Plan
April 16, 2020
Meeting Canceled
Cancellation Notice
March 12, 2020
Meeting Canceled
Cancellation Notice
Meeting Agenda
Presentation on SMC Unincorporated Active Transportation Plan
SMC Unincorporated ATP Draft Pedestrian Focus Area Maps
SMC Unincorporated ATP Draft Bikeway Recommendations Map
February 20, 2020
Meeting Agenda Packet
Presentation on ADLP and Santa Cruz Avenue Improvements
Presentation on SMC Unincorporated Active Transportation Plan
Active Transportation Plan Initial Draft Bike Recommendations
Draft BPAC Santa Cruz Ave ADLP Comment Letter
December 19, 2019
Meeting Agenda Packet
Presentation on Coleman Avenue
Approved BPAC Work Plan 2020
Approved BPAC Neighborhood Responsibilities 2020
October 17, 2019
Meeting Agenda Packet
Presentation on Crystal Springs Dam Bike Lanes and Traffic Signage
Approved Board Memo County Response_Crystal Springs Regional Trail Grand Jury Report
Draft BPAC Work Plan 2020
September 25, 2019
Meeting Agenda Packet
Presentation: SMC Grand Jury Process
Crystal Springs Grand Jury Report
Presentation: Crystal Springs Grand Jury Report Summary
Signed Letter of Support: Crystal Springs Jury Report
Correspondence from Alternate Member Salinger
August 15, 2019
Meeting Agenda Packet
Presentation: Unincorporated San Mateo County Active Transportation Plan
Presentation: Kings Mountain Road Fuel Reduction Project and Closures
Presentation: Annual Bike and Pedestrian Count
June 20, 2019
Meeting Agenda Packet
Presentation: Midcoast Multimodal/Parallel Trail
April 18, 2019
Meeting Agenda Packet
BPAC Neighborhood Responsibilities
February 21, 2019
Meeting Agenda Packet
December 20, 2018
Meeting Canceled
Cancellation Notice
December 12, 2018
Meeting Agenda Packet
Presentation: Bicycle Projects on Altschul Ave and Skyline Blvd
SMC Unincorporated Areas and BPAC Member Roles
Draft BPAC Work Plan 2019
October 18, 2018
Meeting Agenda Packet
Presentation: Planning and Funding Bicycle and Pedestrian Infrastructure
Presentation: Peninsula Open Space Trust Public Access Program
August 16, 2018
Meeting Agenda Packet
Presentation: South San Francisco Bike and Pedestrian Projects
Presentation: Annual Bike and Pedestrian Count
BPAC Work Plan Monitoring
June 21, 2018
Meeting Agenda Packet
Presentation: Multimodal Parallel Trail Project
Presentation: Gray Whale Cove Crossing Project
April 19, 2018
Meeting Canceled
Cancellation Notice
February 15, 2018
Meeting Agenda Packet
Presentation: BPMP Grant Application for Unincorporated SMC

December 13, 2017
Meeting Agenda Packet
October 19, 2017
Meeting Agenda Packet
Presentation: Update from County Dept of Public Works
Presentation: Complete the Gap Trail Project
August 17, 2017
Meeting Agenda Packet
Presentation: Dumbarton Transportation Corridor Study
July 10, 2017
Meeting Agenda Packet
Presentation: County Project Submissions for C/CAG TDA Article 3 Funds
June 15, 2017
Meeting Canceled
Cancellation Notice
April 20, 2017
Meeting Agenda Packet
Presentation: Office of Education Safe Routes to School
Presentation: Parents for Safe Routes
February 16, 2017
Meeting Agenda Packet
Presentation: Sand Hill Road/280 Bike Lane Improvements
January 19, 2017
Meeting Agenda Packet
Presentation: San Mateo County Health System's Collision Report
Presentation: Silicon Valley Bicycle Coalition's Vision Zero Initiative
October 20, 2016
Meeting Agenda Packet
Presentation: San Mateo Countywide Transportation Plan
Handout: Santa Cruz Ave Parking Restrictions
Handout: Public Comments on Santa Cruz Ave Parking Restrictions
Handout: Santa Cruz Ave Bike Collision Hotspots
September 29, 2016
Meeting Agenda Packet
Presentation: 2016/2017 Work Plan
July 14, 2016
Meeting Agenda Packet
Presentation: Brown Act Training
Presentation: Office of Sustainability Overview
Presentation Committee Administration and Purpose
Presentation: Active Transportation Overview