What is SB 1383?
In September 2016, the State set methane emission reduction targets for California in Senate Bill 1383, intended as a statewide effort to reduce emissions of short-lived climate pollutants (like organic waste) in various sectors of California's economy. Implementing the statewide plan under SB 1383 will reduce short-lived, harmful, super pollutants with significant warming impacts, and is essential to achieving California's climate goals.
SB 1383 establishes statewide targets to reduce the amount of organic waste disposed of in landfills (50% reduction by 2020 and 75% by 2025). It also sets a goal to rescue at least 20% of currently disposed of edible food by 2025 and redirect that food to people in need. The California Department of Resources, Recycling, and Recovery (CalRecycle) worked to develop regulations to achieve the goals of SB 1383. These new regulations were finalized by CalRecycle on November 4, 2020, and take effect in January 2022.
What is Organic Waste? 
The state defines "Organic waste" as food, landscape, and pruning trimmings, lumber, wood, manure, cardboard, paper products, printing and writing paper, and other plant and animal-based products.
Why is SB 1383 Important?
Organic waste in landfills emits 20% of the state's methane, a climate super pollutant 84 times more potent than carbon dioxide. Organic waste, such as food scraps, yard trimmings, paper, and cardboard, make up half of what Californians send to landfills.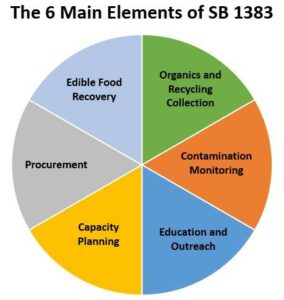 The County is well on its way toward compliance with SB 1383 with the introduction of mandatory organics waste collection in 2022. However, there are many other parts of SB 1383 that will take time to develop and implement.  The States full regulations can be found here: https://www2.calrecycle.ca.gov/Docs/Web/118371
Organics and Recycling Collection. One of the main requirements, ensuring that all residents and businesses in our Densely populated areas have access to recycling and organics collection. In most areas, these programs have been in place since 2010. SB 1383 requires specific colors for waste collection containers: carts and bins must be grey or black, organics containers must be green, and recycling containers must be blue. All new containers must be clearly labeled with what does and does not go into them. Any existing carts will need to be replaced by 2036.
To see if you are in an Unincorporated County service area, please review this map. If you do not live in an Unincorporated San Mateo County service area, please refer to your jurisdiction for information on SB 1383.
Here is a link to the haulers that are providing residential and commercial services in the Unincorporated Service Areas.
More information on SB 1383 is available on CalRecycle webpage: https://www.calrecycle.ca.gov/organics/slcp 
Public Meetings
The County of San Mateo is hosting two virtual public meetings to discuss changes to residential and commercial waste services. Join a community public meeting on: