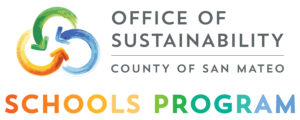 The Office of Sustainability Schools Program, previously under the RecycleWorks Program, is proud to work with students, teachers, and administrators throughout San Mateo County for over fifteen years. Our primary mission is for students to take action to conserve resources and help protect our environment.
Current Events
Free Services
Whether you are a public, charter, private, and/or home-school teacher in San Mateo County, our Office of Sustainability Schools Program is here to help. 
Remote and Hybrid Learning Environments
Below is a list of our free educational offerings that are available for you to use this school year for your remote classroom:
Assistance with developing a unit plan of study in resource conservation and the 4R's (Reduce, Reuse, Recycle, Rot-Compost)
5E's resource conservation and waste reduction lesson plans with step by step instructions and student activity sheets aligned to Next Generation Science Standards
Student-facing activities with accompanying video clips such as building solar ovens with reusable boxes and making a tote bag from old T-shirts.
Virtual K-12th grade interactive classroom presentations on the 4R's (Reduce, Reuse, Recycle, Rot – compost), worm composting, waste reduction, and plastic pollution prevention
Online interactive and take-home 4R's Unit Games
Assistance with becoming a certified Green Star School classroom based on the actions that students can take at home.
In-Classroom/At-School Learning Environments
We offer schools and youth programs in San Mateo County the following free services, which reach out to approximately 20,000 educators and students per year.
School-wide and grade level assemblies on the 4R's (Reduce, Reuse, Recycle, and Rot/Compost).
Classroom presentations and workshops on worm composting, backyard composting, and reuse projects such as making colored spin wheels from old CD's or reusable bags from old t-shirts.
4R's classroom field trips to local transfer stations, material recovery facilities and/or closed and landfills. Please note – a limited number of classroom field trips are awarded per year and teachers must apply through our lottery system via application found in our annual schools newsletter).
Assistance with setting up a Be Seen Keepin' It Clean school-wide litter collection event in coordination with the San Mateo County Office of Education and local garbage and recycling companies.
Technical assistance to teachers on ways to connect resource conservation and/or environmental education curricula into their classroom lessons.
Assistance to green teams, environmental clubs, and school staff on conducting school and district-wide waste assessment to analyze ways in which to improve recycling, composting, and reuse on school campuses.
Teacher / youth leader training workshops integrating the following topics into classroom lessons aligned with Common Core and Next Generation Science Standards: Litter Collection Event, the 4R's Games, Plastic Pollution Prevention, Building Solar Ovens, Color Spin Wheels out of reusable materials, and Making Recycled Paper.
Resources for educators to create interactive project-based lessons by checking out our paper making kit, solar oven kit, 4R's Game kit, and CD colored spin wheel kit, and worm composting kit.
If you are interested in any of the above free resources and services, please contact us at sustainability@smcgov.org, subject line: Schools Program or visit our website.
Kids Make a Connection
Kids can learn about the connection between natural resources and their daily consumption and disposal habits by visiting the Office of Sustainability Schools Program Kids web page.
Green Star Schools Program
Certify your classrooms, schools, and districts under our Green Star Schools Program through the waste reduction pathway. To learn more about this dynamic program for schools in San Mateo County please visit the Green Star Schools Program website or, for technical assistance on this certification program, please email gschwartz@smcgov.org. We are also happy to help via classroom visits.
Curriculum Resources
5E Lesson Plans
Using the 5E Model of Instruction our lesson plans provide teachers and students with interactive and engaging activities that support all forms of remote learning and traditional in-class instruction. Additionally, these lessons can be customized and integrated into a 4R's or Zero Waste Unit for your class! If you have any questions about how to do this, please contact the Schools Program Team.
Humans Use Natural Resources (Grades 1st-5th)
In this activity, students will learn what natural resources are, where they come from, and then classify and sort everyday items into the materials they are made from. 
What is Waste? [Adapted from RethinkWaste] (Grades K-2nd, 3rd-5th)
In this activity, students will explore properties of what makes a material waste, and the three different disposal methods (landfill, recycle and compost). With this information, they will understand how humans create systems to manage waste products and critically assess their waste process. 
4R's Sorting Activity (Grades 2nd-5th)
In this activity, students will test their knowledge by sorting everyday items into the correct bins. 
Wrap It Up (Grades K-12th)
In this activity, students will learn about single use packaging and the different properties of plastic. They will then use this information to assess how they can reduce non-recyclable plastic from their purchases. 
4R's Games (Grades 3rd-12th)
These games explore the many principles and concepts of the 4R's and waste management systems of San Mateo County. These games provide an opportunity to apply the unit content in a hands-on experiential format to help students understand how their waste systems work.
Build a Landfill (Grades 6th-8th)
In this activity, every student will be able to demonstrate understanding of the landfill layers concept by building a landfill model.
Campaign for Change (Grades 6th-12th)
In this activity, students will learn about environmental change makers and create their own Campaign for Change!
Teacher Resources Toolkit
Our Teacher Resources Toolkit is filled with great activities curated from outside organizations to support our 4R's curriculum and provide supplemental enrichment opportunities.
Organization & Funding Resources
YESS (Youth Exploring Sea Level Rise Science)
The YESS (Youth Exploring Sea Level Rise Science) curriculum is available to high school teachers throughout San Mateo County. Resources provided to teachers for this program includes field trips, interactive classroom lessons, and assistance with a community project. To learn more visit www.seachangesmc.com/YESS
SCHOOL RESOURCE JOURNAL (A Journal on Resource Conservation Topics for San Mateo County Educators)
Click here to view or download the most recent version of our schools journal where you will be able to find tons of informational resources for your school and classroom.
See our past newsletters below to catch up on what the Schools Team has been sharing with our teachers and administration.