The San Mateo County Green Business Program certifies and promotes small to medium-sized businesses that operate in an environmentally-responsible manner. By offering technical assistance and resources, the County helps local businesses save money by teaching them how to conserve energy and water, minimize waste, prevent pollution, and shrink their carbon footprints.
The program, which is part of the California Green Business Network, is available to small and medium businesses throughout San Mateo County in the following sectors: office/retail, restaurant/catering, hotel, cleaning services, auto repair, small manufacturing, printing, and medical/dental practices.
While the program focuses on retail and commercial businesses, County and City facilities and individual department locations can also apply for certification.
Why Join?
By joining the program, businesses learn how to integrate sustainable initiatives into their operations while also saving money and improving employee and customer health.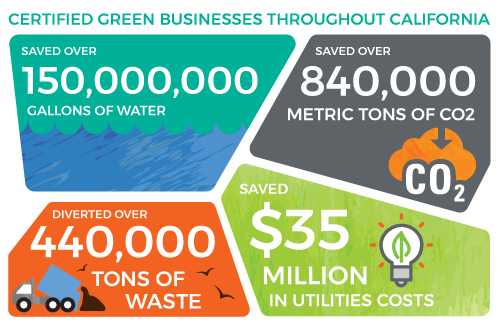 Certified Green Businesses throughout California have saved over 150,000,000 gallons of water and 840,000 metric tons of CO2, diverted over 440,000 tons of waste, and saved $35 million in utilities costs by making simple changes such as upgrading outdated and inefficient electrical equipment, replacing old toilets and aerators with low-flow options, practicing water-conserving landscaping techniques, purchasing durable materials and eliminating disposable items, utilizing compost and recycling programs, and using low-toxic products.
Green Certification lasts three years and provides consumers with a recognized brand and distinguishes businesses as members of an accredited program with high standards and verifiable requirements. Certified businesses gain recognition and a marketing edge through promotional events, press coverage, and registry on the statewide Green Business directory.
Get Started!
Certification is easy and involves a few simple steps. The first step is to register online with the California Green Business Network. After signing up online, we will conduct an initial walk through and help you complete the Green Business checklist. You may need to complete some changes to meet the checklist requirements. Once you have completed all of the requirements, we will verify through a final site.
Steps to Certification:
Enrollment and Registration
Initial Walk-Through and Consultation
Audits and Compliance Checks
Implementation of Measures
Final Site Visit and Verification
Certification!
To begin the certification process, please visit greenbusinessca.org. Once you've created a business profile and registered on the California Green Business Network (CAGBN) online database (greenbusinessca.org), please email (click on name) or call:
Dione Rossiter (650) 599-1553 or Hannah Doress (650) 599-1468 at the San Mateo County Office of Sustainability Green Business Program