Composting organic items like food scraps and yard debris is not only a great way to reduce the amount of waste we send to the landfill, but it's also easy!  If your hauler provides the curbside collection of compostable materials (check our hauler map), then the process is as simple as taking out your recycling or garbage.  You can also compost at home by creating a backyard compost pile, by utilizing worms to create vermicompost, or by grasscycling.  All of these at-home methods have the added benefit of giving you a wonderful soil amendment for your plants.
Residents
Curbside composting collection
Not all garbage haulers in San Mateo County provide curbside collection for organic waste. Please check our hauler map to determine if your hauler provides curbside collection services, as well as what materials are accepted in the cart.
How to Start Composting At Home
Choose a type of composting system to learn more

Backyard composting

Worm composting (vermicomposting)

Grasscycling
Backyard Composting
Backyard composting is a great way to recycle your yard and food waste into a useful, nutrient rich, fertilizer for your garden.  It involves piling up organic waste, and then maintaining that pile while micro and macro organisms break down what is inside.
Choose a type of bin
Many people prefer a holding bin to keep composting piles confined to a smaller space.  Keep the bin 4 feet or lower for easy access for turning or purchase a compost tumbler or barrel.
Discounts and Rebates
Bins can be purchased at a discounted price or you can get a rebate for building your own bin from the County of San Mateo Office of Sustainability!  If you attend a composting workshop, receive an additional $25 discount that can be added to a discount for a bin or the $100 rebate if you build your own bin.  One rebate OR discount per household or business located in San Mateo County.
Attend a Workshop
Attend a composting workshop to learn how easy and fun composting is!
Choose a location
Your location should be a level, well–drained surface at least two feet away from any fence or structure, with easy access to water.
Add material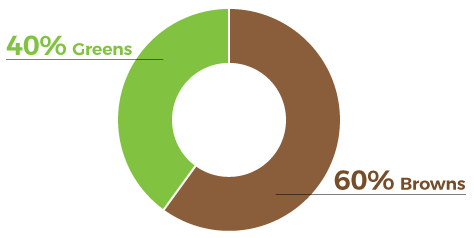 Add approximately 60% browns to 40% greens. Chopping up material into smaller sizes increases the surface area for bacteria to work.

Greens
good sources of nitrogen
Grass clippings
Coffee grounds and filters
Fruit and vegetables
Egg shells
Manure from herbivores (do not use if an animal is sick)
Tea bags
Hair and feathers (human or animal, may be slow to degrade)
Grains

Browns
good sources of carbon
Leaves
Straw
Sawdust (from untreated wood)
Newspaper
Yard waste (best cut to sizes 2″ or less)
Paperboard (break into small pieces)
Dried grasses
Wood ash

What to avoid
Diseased plants
Weeds with seeds or roots
Dog or cat feces
Toxic chemicals
Charcoal briquettes
Fats, oils, and grease
Meat scraps, bones, and cheese
Treated logs
Add water
Add water as you build the pile to evenly distribute moisture throughout. Keep as moist as possible – microbes require moisture to survive.
Turn the pile
Turning or mixing the pile periodically has many benefits, including:
Reducing odor
Adding oxygen
Breaking up compacted material
Helping to destroy unwanted disease
Helping maintain beneficial microbes
Helping maintain an optimal temperature

If the temperature is less than 100°F or more than 150°F. Thermophilic bacteria are the fastest at turning material into compost and prefer temperatures in the 105–140°F range.
Avoid Common Problems
Pile will not heat up

Pile is too dry. Add water and turn.
Lack of greens

Odors

Too much moisture (either from over watering or from having too many "greens" in your pile) can create odor problems and slow the composting process
Turn the pile and add dry browns to the mix

Flies

Fruit flies are attracted to food scraps that are exposed on top of a pile
Always put your food waste in the middle of the pile and bury it into a few inches of brown material

Pests i.e. raccoons, rats

Pests are attracted to exposed food scraps, especially meat, poultry, fish and fats
Turn pile to increase temperature or cover food with leaves Bury food a few inches down in the center of the pile.
Keep all lids fastened.
Line the bottom of the bin with a small mesh wire.
Worm Composting
Let the worms do the work! Worm composting produces vermicompost: a nutrient-rich material that can be used as a concentrated soil amendment. A happy home is a healthy home and a compost bin is the perfect place for worms!
How do I get started?
You need a place for your worms to live. You can purchase a worm bin at a discounted price from the County of San Mateo Office of Sustainability, build your own wooden bin or purchase a plastic container with a lid and make a bin. Whichever bin you choose, your worms will need a shallow place to live in that allows plenty of air to circulate.
Attend a Workshop
Attend a composting workshop to learn how easy and fun composting is!
What type of worms should I use?

The worms best suited for a worm bin are red wrigglers. They live close to the surface of the ground, process large amounts of organic material, reproduce quickly and tolerate a wide range of temperatures (they are happiest at temperatures between 59-77°F), acidity and moisture conditions. All this makes them the ideal worm to use in a worm bin.
How Do I Build a Worm Bin?

How Do I Prepare a Worm Bin?
Preparing the Wriggly Wranch worm bin:


Where can I put my worm bin?
It must be protected from direct rain, sun and/or excessive cold. Your bin can be placed indoors (there should be NO odor) or if you prefer, put it in a sheltered outdoor location such as a shed, garage, carport or balcony.
How to Feed Your Worms
Select foods that are suitable for worms including most fruits, vegetables, cereals and grains, and other organic items like cardboard and tea bags.
It is best to cut food scraps into small pieces before placing them in the bin. The smaller the pieces the more surface area there is for bacteria to start breaking down the food, making it easier for the worms to consume. Some people put their food scraps, including eggshells, into a blender and make a slurry. The worms seem to love this, but it is not necessary.
Keep shredded black and white newspaper over the food at all times. Newspaper or bedding helps keep the bin dark and moist and discourages fruit flies. Other organic material such as burlap or shredded cardboard or paperboard can also be used. The worms live in these materials and they also eat them.
To feed the worms, place the food under the newspaper in a different part of the bin each time. Do not bury the food in the castings.
What do I feed my worms?

Yes
Fruit
Vegetables
Cereals and grains
Miscellaneous: coffee filter paper, tea bags, eggshells, dead flowers
Other food/bedding: newspaper (nothing shiny or coated), cardboard, paperboard, paper egg cartons, brown leaves

Caution
Breads
Potato skins, onions, garlic, and ginger
Coffee grounds

No
Meat, poultry, fish, dairy (protein attracts rodents)
Potato chips, candy, oils (worms do not like junk food and these attract ants)
Oranges, lemons, limes (most citrus has a chemical substance, limonene, that is toxic to worms)
Non–biodegradable materials that do not belong in your bin include plastic, rubber bands, sponges, aluminum foil, glass, and dog or cat feces
Avoid Common Problems
Moldy food

If you have fed the worms too much, the food might become moldy instead of being eaten
Remove moldy food as worms are unlikely to eat it and it makes the system vulnerable to infestations from other microorganisms

Offensive odor

Uneaten food has started to rot
Make sure there is a generous amount of damp newspaper or cardboard placed over the food and stop feeding for a week
Add rock dust or crushed oyster shells

Worms trying to escape

Bin may be too wet or too dry
Add more dry bedding if too wet, or moisten bedding if too dry
Businesses
As of January 2017, all businesses that generate more than 4 cubic yards of organic waste must provide compost collection services, either through a curbside program, by self-hauling waste to a transfer station, or through the methods outlined above.  For more information, please visit CalRecycle's website.
Curbside composting collection
Not all haulers in San Mateo County provide curbside collection for organic wastes for businesses. Please check our hauler map for information regarding services provided in your area.