Report It! SMC
"Report It! SMC" empowers residents to report illegal dumping and graffiti in unincorporated areas of San Mateo County. This tool allows residents and visitors to report issues quickly and easily. You can even take photos of issues and submit them on your phone. These reports are then forwarded directly to County departments to respond and address.
To use the Web reporting tool above:
Make sure the Report tab is selected. Enter the address or use the map marker to navigate to the area where the issue you want to report is located on the map. (Use the controls in the upper left corner to move the map around the window or zoom in and out.).
Once you have indicated the address or mapped the location of your issue, click next.
Select a service request issue from the drop-down menu. Once you've entered a service request, you can then fill out a more detailed description of the issue and even attach a photograph. After this is complete, create an account where you can earn civic points, however you must enter a valid email address! After you've completed all the fields, press submit to create a public report of your issue!
You can also report issues from your smart phone or tablet. Click on one of the links below to download the mobile app:
Adopt-a-Block Program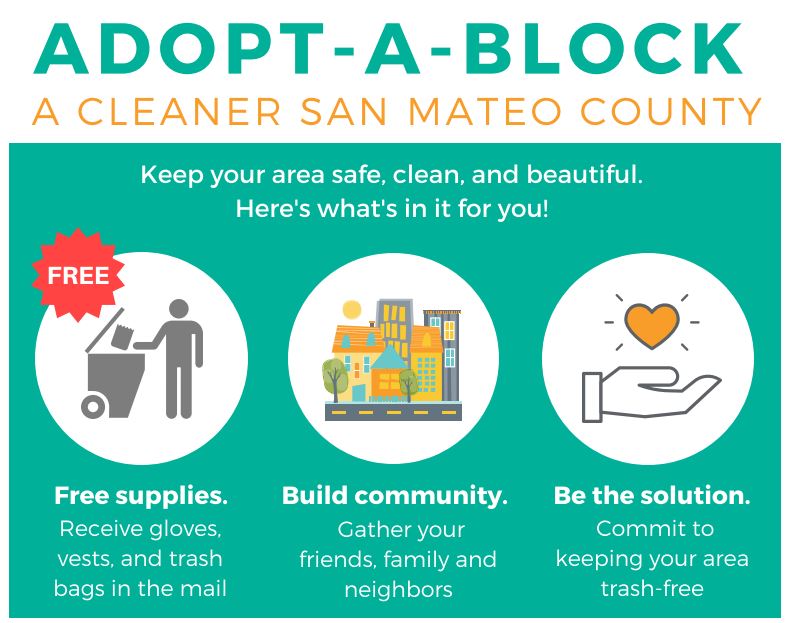 San Mateo County's Adopt-A-Block program provides an opportunity for citizens to beautify their community by adopting streets in their neighborhood and regularly cleaning them up. We welcome you as a volunteer! Volunteers are critical to our success, and we are grateful for the time and service you contribute. We will award volunteers a Commendation Certificate upon completing at least six months of the program.

Program Requirements
Adopt a street or block in an unincorporated area of San Mateo County
Commit to cleaning up at least once a month 
Must be at least 14 years old to volunteer without adult supervision
Flyer (English)
Flyer (Spanish)
Email adoptablocksmc@gmail.com to adopt your block today!