The Sustainability Academy is a free education and outreach program designed to raise awareness around sustainability and empower San Mateo County community members with the knowledge and skills to promote sustainability.
"Empowering others to take agency in their lives through experiential education is foundational to implementing a culturally relevant climate change response."

– Community Member and 2019 Master Resource Conservation Course Participant
Our diverse range of classes is taught by local experts and offer participants access to cutting-edge sustainability information and best practices. This is a great way to get involved with sustainability projects in your community, build leadership skills, and meet new people who share the same interest!
The Sustainability Academy is a County of San Mateo program that is available to our San Mateo County community members – those who live, work, and go to school in San Mateo County. If you need ADA accommodations, please contact us five (5) business days prior to the workshop or first class you will be attending.

---
Workshops and Courses

Workshop Videos and Recordings
Missed a workshop? Catch them here.
Recorded workshops include:
Edible Home Gardening Support Community meetings
Home Composting
Creative baking
Recycling in the COVID 19 Era
(Note: not all virtual workshops are recorded)
Get to know popular Academy courses and workshops with these introductory videos:
---
See our latest announcement!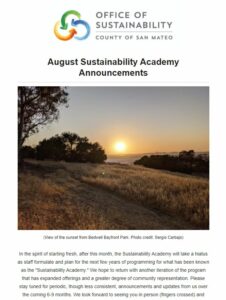 Please visit our waste reduction website here for more information about:
Curbside composting collection
How to start composting at home
Backyard composting
Worm Composting
Grasscycling
Community garden partnerships
Stay connected with us!
Follow us on social media @SustainSMC or, if you've taken a workshop or course with us, request to join our Facebook group here
Questions?
Contact our Sustainability Academy Coordinator, Avana Andrade at aandrade@smcgov.org.