The Sustainability Academy is a free education and outreach program designed to raise awareness around sustainability and empower San Mateo County community members with the knowledge and skills to promote sustainability.
"Empowering others to take agency in their lives through experiential education is foundational to implementing a culturally relevant climate change response."

– Community Member and 2019 Master Resource Conservation Course Participant
Our diverse range of classes is taught by local experts and offer participants access to cutting-edge sustainability information and best practices. This is a great way to get involved with sustainability projects in your community, build leadership skills, and meet new people who share the same interest!
The Sustainability Academy is a County of San Mateo program that is available to our San Mateo County community members – those who live, work, and go to school in San Mateo County. If you need ADA accommodations, please contact us five (5) business days prior to the workshop or first class you will be attending.

See our latest announcement!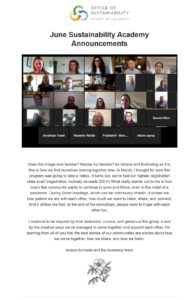 ---
Upcoming Classes

Master in Local Sustainability – Summer 2020
Sustainability Workshops
In our April announcement, we asked you to participate in a poll to decide what classes we will offer remotely. The results are in, and the dates for the chosen classes are on the calendar! See below for the results of the poll, and the remote classes that we're offering because of your votes – all of these are free workshops, all being presented remotely.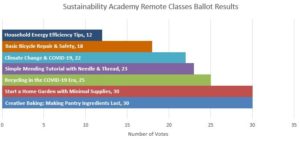 The Sustainability Academy is offering multiple half-day workshops this current program year:
Home Compost Workshops- ONLINE *New Series on Gardening Against Climate Change and more!* 
Creative Baking: Making Pantry Ingredients Last – ONLINE
Recycling in the COVID-19 Era – ONLINE
Edible Home Gardening Support Community – ONLINE
Fixit Clinic- ONLINE
Past Classes & Workshops
Master Composter Course – Spring 2020
4R Fashion Fair & Mending Workshop Series
Volunteer Solar Installer Orientation with SunWork
Going Solar Workshop
Deconstruction Overview Training
Non-Toxic Cleaning Products
---
Questions?
Contact our Sustainability Academy Coordinator, Avana Andrade at aandrade@smcgov.org or (650) 599-1459
Videos