Composting organic items like food scraps and yard debris is not only a great way to reduce the amount of waste we send to the landfill, but it's also easy!  If your hauler provides the curbside collection of compostable materials (check our hauler map), then the process is as simple as taking out your recycling or garbage.  You can also compost at home by creating a backyard compost pile, by utilizing worms to create vermicompost, or by grasscycling.  All of these at-home methods have the added benefit of giving you a wonderful soil amendment for your plants.
Residents
Curbside composting collection
Not all garbage haulers in San Mateo County provide curbside collection for organic waste. Please check our hauler map to determine if your hauler provides curbside collection services, as well as what materials are accepted in the cart.
How to Start Composting At Home
Choose a type of composting system to learn more
Grasscycling
Grasscycling is simply leaving your grass clippings on the lawn.
How to grasscycle
Basic Rule: Do not cut any more than 1/3 of the length of the grass blade at one time.
Proper mowing is the key to grasscycling. Grass should be dry and the mower blades sharp. In the fast–growing season you may have to cut every seven days-but in the slower growing season you might only need to cut your lawn every 7–14 days.
During a "wet season" or at a time your grass cannot be mowed as frequently as desired, you might have an excess of clippings. This is an excellent opportunity to put your clippings in a backyard compost pile.
Watering
Water in the early morning if possible. Do not over–water. Too much water will cause your lawn to develop shallow root systems. Water less frequently but deeper.
Fertilizing
Do not over–fertilize. Proper fertilization is important, however, over–fertilization can weaken a lawn by causing excessive growth. It is best to apply smaller quantities more frequently.
Lawnmowers
There are several brands of recycling mowers available that cut grass into small pieces and force them into the soil. However, you do not necessarily need to purchase a recycling mower to grasscycle. Almost any mower will work by raising the cutting height. If your mower has a collection bag, remove it to allow clippings to drop into the soil. However, if your mower does not have a safety flap covering the opening where the bag fits into the chute, or a plug for the chute, contact your local retailer to purchase a retrofit kit.
Most common misconceptions
•  Grasscycling causes thatch build–up. Studies have shown that grass roots are the primary cause of thatch, not grass clippings. And, a small amount of thatch is actually beneficial. It serves as a mulch, preventing water evaporation and soil compaction. 
•  Grasscycling spreads lawn disease. The primary cause of disease spread is improper watering and fertilizing. If a disease is present, infestation will occur whether you are grasscycling or not. 
•  My lawn will look bad. Grasscycling will give you a healthier looking lawn if it is mowed, watered, and fertilized properly.
Grasscycling is not new. Many parks and golf courses have been practicing grasscycling successfully for years.
Community Garden Partnerships
The Office of Sustainability is currently looking to partner with local community organizations and businesses to build vibrant community gardens and to promote sustainable composting techniques. The goal of the program is to provide the opportunity for community members to learn about composting through the gardens, and ultimately, practice the composting techniques at home and reduce the amount of organic wastes from being sent to landfills. Gardeners can also use compost as a soil amendment to grow nutritious and fresh produce!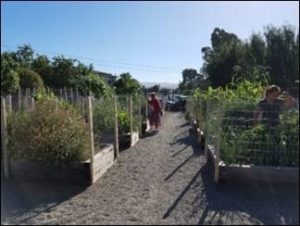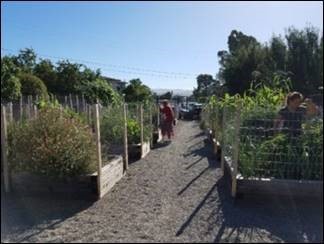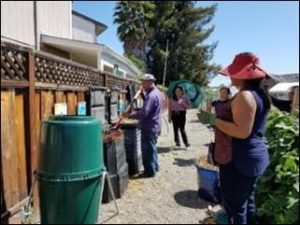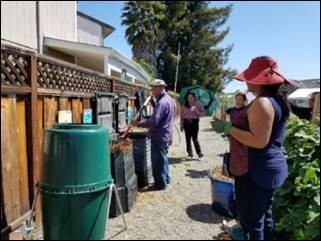 The Office of Sustainability will provide funding and resources to help start up and maintain the gardens, while the partnering organization's role is to use the funding to build the garden, coordinate with the gardeners to keep the garden up and growing, and promote composting and sustainable gardening. Please reach out to us if your organization is interested in getting started on a community garden!
Click here to learn more about partnership program.
The map shows our partner community gardens that are open to the public. Please feel free to come visit any of the gardens and check out the composting systems in place!
Businesses
As of January 2017, all businesses that generate more than 4 cubic yards of organic waste must provide compost collection services, either through a curbside program, by self-hauling waste to a transfer station, or through the methods outlined above.  For more information, please visit CalRecycle's website.