Government Operations Climate Action Plan (GOCAP) is a strategic roadmap to guide San Mateo County government operations in preparing for climate risks and creating impactful greenhouse gas emission reductions. It uses current trends and provides realistic and vetted actions that will get the County to its goals of 50% emission reduction by 2030 and carbon neutrality by 2045.
The plan builds on the County' s progress to date and reflect the latest science and best practices. Many actions described in the plan will not only support achievement of the County's climate goals, but will also bring economic, environmental, health and equity benefits for County government and the community, making government operations more efficient and improving the level of service it offers to County residents and businesses.
At-A-Glance
Producing and burning fossil fuels releases significant amounts of greenhouse gases, like carbon dioxide and methane, and when these accumulate in the atmosphere, global climatic patterns change. This disruption in global climate causes myriad effects such as drought, more extreme storms, and sea level rise, and means that the environment we have become accustomed to is changing.
Emissions Forecast
The graph below shows the Government Operations emissions if nothing is done (blue line), emissions taking into account 100% renewable electricity through Peninsula Clean Energy (green line), the historic emissions and path forward to achieve a net-zero emissions (dark blue line), and the emissions reduction trend accounting for the proposed actions (orange line). The goals in the GOCAP are to achieve a 50% reduction from 2005 levels by 2030 and carbon neutrality by 2045.
California has a statewide goal of greenhouse gas emissions to be reduced to 40% below the 1990 emissions level by 2030. The County's first year of emissions tracking starts at 2005 and calls for a 50% decrease by 2030 from this level.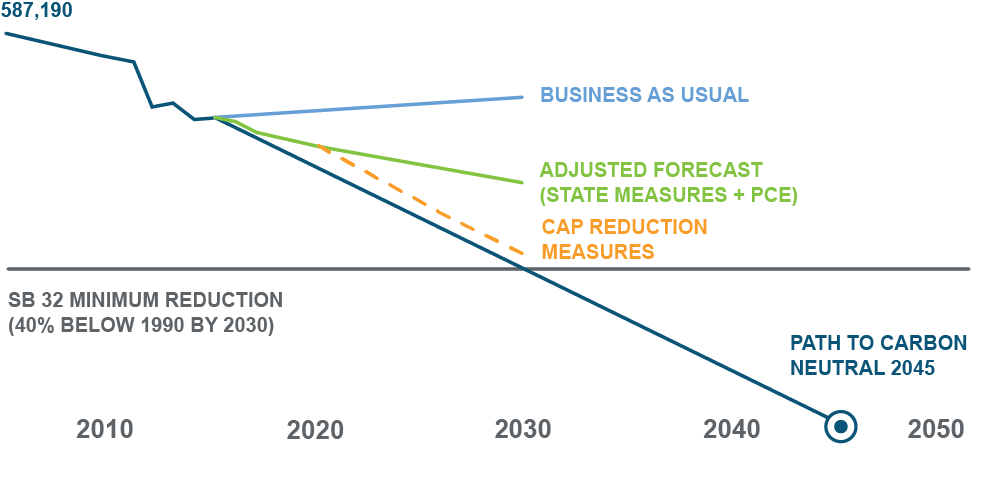 What Gets Measured
All measurable emissions from county operations are calculated, for example, by analyzing the amount of electricity, natural gas, or fuel used, or vehicle miles traveled on roads. San Mateo County is responsible for reducing the following 2016 inventory of emissions.
Buildings and Facilities

Total GHG Emissions: 47.2%
Electricity: 14.77%
Natural Gas: 27.05%
Generators (Diesel): .02%
Refrigerants:.19%
Cogeneration: 5.77%

Vehicle Fleet:

Total GHG Emissions: 11.6%
Fossil Fuels: 11.42%
Refrigerants:.19%

Public Lighting:

Total GHG Emissions: .4%
Electricity: .4%

Wastewater Treatment

Total GHG Emissions: .4%
Methane Process: .4%

AIRPORTS

Total GHG Emissions: .203%
Electricity: .2%
Natural Gas:.003%

Water & Wastewater Transport

Total GHG Emissions: .1004%
Electricity: .1%
Natural Gas:.0004%

Solid Waste Facilities

Total GHG Emissions: .2%
Landfills: .2%

Employee Commute

Total GHG Emissions: 39.2%
Electricity: .2%
Fossil Fuels: 39%

Government-Generated Solid Waste

Total GHG Emissions: .7%
Methane Process: .7%
Achievements
San Mateo County created its Climate Action Plan (CAP) in 2012 and is now building on the successes of this plan in its current plan update. The current update process, led by the Office of Sustainability, will help San Mateo County meet new state greenhouse gas reduction goals. The following projects have been completed and are related to reducing emissions:
Our GOALS
BUILDING ON SUCCESS
San Mateo County has set a precedence in prioritizing climate related issues in recent years and has made significant strides in upholding its commitment. This Plan is building on work already done and underway and it will chart our course for meeting 2030 and 2045 goals.
Map

Carbon Sequestration Potential for Government Land

Part of the GOCAP calls for carbon sequestration in order to further decrease emissions in the County. One method of carbon sequestration is planting trees. The map shows the potential areas for carbon sequestration in the County land. View
GET INVOLVED
It's important that our climate action plans are responsive to your experiences and priorities. Keep informed and tell us your thoughts on climate change.
Join our mailing list to receive updates from the Office of Sustainability. Topics include planning and preparing for climate change.
Tell us what you think. We are currently updating the Climate Action Plan and want to hear from you! We will read these comments and incorporate as many as possible into the Climate Action Plan.