Holiday Waste Reduction Tips
Buying and Decorating Holiday Trees
If holiday trees are a part of your holiday celebration, here are some important facts to consider when purchasing your tree.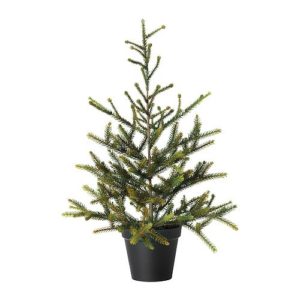 Living trees can be replanted, or donated to be replanted, and allowed to continue living.
Here are a couple of examples where of where to rent trees:
Here are a few locations that sell living trees:

Bongard's Treescape Nursery
12460 Highway 92
Half Moon Bay
650-726-4568
Wegman's Nursery
492 Woodside Road
Redwood City
650-368-5908

M&M Nursery
332 Woodside Road
Redwood City
650-366-4429
Make your own tree ornaments. Jewelry can be taken apart for beads, which children could enjoy using as decorations on handmade ornaments. Your entire tree can be decorated with recycled items using soda cans, paper towel rolls, and CDs. Cut out images from cards for decorations. Using paper to cut out snowflake designs would also be a great way of contributing to an eco-friendly holiday theme. More ideas of easy crafts & tree decorations, including ones specifically for children.
Try alternatives to tinsel, such as strands of popcorn, macaroni or icicle lights. If you do choose tinsel, make sure that you remove all of it before recycling the tree and reuse it next year. Tinsel cannot be recycled.
2019/2020 Holiday Tree Recycling Guide
Preparation tips
Flocked trees cannot be composted at all facilities.
Do not bag your tree. If you do, it will not be recycled.
Place trees at the curbside on your regular yard waste or compost service day.
Remove stands, lights, tinsel, ornaments and other decorations.
Cut them into shorter lengths if they are larger than the lengths specified below in the how to prepare column.
Multi-family residents must call Customer Service to arrange a location on site for tree pick up.
COMPANY
DATES ACCEPTED
HOW TO PREPARE
Republic Services of Daly City and Colma
650-756-1130

December 26 - January 26
December 26 - January 26, trees must be cut into 6-foot lengths.
Place tree at the curb next to your compost cart.
Flocked trees are accepted, but not recycled.
After January 26, trees must be cut up and placed inside the compost cart. Pieces must fit inside the cart with the lid closed.
Republic Services of Half Moon Bay
650-592-2411

December 26 - January 26
December 26 - January 26, trees must be cut into 6-foot lengths
Place tree at the curb next to your yard (green) waste cart.
After January 26, trees must be cut up and placed inside the yard (green) waste cart. Pieces must fit inside the cart with the lid closed.
Kunz Valley Trash and Recycling
(Unincorporated San Mateo County)
1-831-338-9050

January 2 - January 7
Trees must be cut into 4-foot lengths.
GreenWaste Recovery, Inc.
(Woodside and Portola Valley)
650-568-9900

Unincorporated Woodside and Unincorporated Portola Valley
650-568-9900
December 26 - February 2
Must call customer service to schedule tree to be removed for a small fee. 4 feet or less.
After February 2, all trees must be cut up to fit loosely in your compost cart.
Accepts flocked trees.
Trees must be curbside or on main road (no on-property collection).
Recology of the Coast
Pacifica
650-355-9000

El Granada, Pillar Pt, Miramar, Princeton, Montara, Moss Beach, and Unincorporated Half Moon Bay
650-355-9000

December 26 - January 31


4 feet or less.
Pacifica residents only - After January 31, cut up your tree and place into your green compost cart. Make sure the lid closes completely.
Recology San Bruno
650-583-8536

December 26 - January 31


4 feet or less.
After January 31, cut your tree into pieces and place inside your green compost cart. Please be sure the lid closes completely.
Does NOT accept flocked trees for composting. Must call 24 hours prior to your service day for pick-up.
Recology San Mateo County
650-595-3900

Serves Atherton, Belmont, Burlingame, East Palo Alto, Foster City, Hillsborough, Menlo Park, Redwood City, San Carlos, San Mateo, the West Bay Sanitary District, Ladera and Unincorporated County Areas within the Rethink Waste Service Area (Baywood Park, Burlingame Hills, Devonshire Canyon, Emerald Lake Hills, Harbor Industrial, Kensington Square, North Fair Oaks, Oak Knoll, Peninsula Golf Club, Palomar Park, San Mateo Highlands, Sequoia Tract and Trailer Ranchero).
December 26 - January 31


6 feet or less may be placed in the cart trunk side up. If it is larger than 6 feet, leave it at the curb next to your cart.
After January 31, trees need to be cut into pieces and placed inside the compost cart. The pieces must fit inside.
Accepts flocked trees.
South San Francisco Scavenger Company Inc.
650-589-4020

Serves Brisbane, Millbrae and South San Francisco.

Any time.


Cut tree in half if over 6 feet.
Place tree on or near curb by 5 am on regular collection day.
Flocked trees will be collected but not recycled.
Recycling Drop-off Locations
If you do not have curbside service available, the following locations will accept your tree for a fee. Flocked trees will be charged as garbage. Remove stands, lights, tinsel, ornaments and other decorations.
DROP OFF LOCATIONS


WHEN


WHERE
Blue Line Transfer, Inc.

650-589-4020
Monday - Friday
6:30 am -4:30 pm;
Saturday
7:00 am-4:30 pm
500 East Jamie Court,
South San Francisco
Ox Mountain Landfill

650-726-1819
Monday - Saturday
8:00 am - 4:30 pm
12310 San Mateo Road,
Half Moon Bay
Pescadero Transfer Station

650-592-2411
Friday
10:00 am - 5:30 pm
Saturday/Sunday
9:00 am - 4:30 pm
Bean Hollow Road and Artichoke Road,
Pescadero
Shoreway Environmental Center

650-802-8355
Monday-Friday
6:00 am - 6:00 pm;
Saturday/Sunday
8:00 am - 5:00 pm
333 Shoreway Road,
San Carlos
Creative Gifts
Try these gift ideas that are different, enjoyable and prevent waste:
Electronic books (available on CDs, cassette tapes, or digital formats)
Recycled-content products
Gift certificates (restaurants, retail stores, etc.) – no wrapping required
Tickets to sports events, theatrical or musical performances, or movies
Museum or park memberships
Cloth napkins
Mechanical pencils/refillable pens
Homemade coupon (for dinner, a car wash, handyman service, or babysitting)
For children: prepare a dress-up box filled with wacky old clothes and jewelry.
Homemade baked goods in a reusable tin.
Battery charger (buy rechargeable batteries when giving an electronic gift)
Transportation passes (bus, CalTrain, BART. etc.)
Give a Gift of Local Food 
Resources on where to buy or pick your own local fruits and veggies
Make a Gift
Everyone loves a homemade gift and they can be fun and easy to make. You can find all kinds of great reasonably-priced used supplies to make holiday decorations and other neat things at Scrounger's Center for Reusable Art Parts (SCRAP). All items at SCRAP were donated and most likely would have otherwise ended up in the landfill.
Personal Gifts
A personal gift does not need to be an item. It could be a gift of time spent with loved ones at a local park or museum.
Assist a friend or family member to help clean out unwanted items and donate them. See www.RecycleStuff.org for social service organizations that will pick up usable items.
What to do When New Gifts You Receive Replace Current Items
When unwanted items are replaced with new gifts, don't put the unwanted item in the trash. Donate the item to your local thrift shop, local charity, or if you can, recycle it. Visit www.RecycleStuff.org to find locations to recycle the item or to donate it.
Packaging
Have fun discovering new ways to make your gift look good without needless waste. Gift decorating is a great way to be creative.  Click here to see a local news report on recycling holiday packaging.
Creative substitutes for wrapping paper include decorated paper bags, scarves, tins, baskets, bags, old maps and calendars, used blueprint paper, or just a nice bow. Specifically selected sections of the newspaper also make fun wrapping paper.
Keep gift boxes and bags that you receive and use them to present a gift to someone else. Wrapping paper and bows can be treated the same way.
Decorate boxes with magazine cutouts or design your own wrapping paper using paper bags.
Instead of using plastic ribbon, trim your gifts with dried flowers, pinecones, yarn, twine, shoelaces, paper or fabric ribbons.
If you do choose to use wrapping paper, look for paper containing recycled content. You can also purchase solid colored paper that can be used for occasions throughout the year and decorated with different bows, stickers, and artwork. Conservatree provides a list of organizations carrying greeting cards and wrapping paper made out of recycled content.
Did you know packing peanuts are reusable? They can be taken to many of The UPS Stores and other stores that provide packaging and mailing services. When you choose packing materials, if you don't have packing peanuts to reuse, you might try cornstarch biodegradable packing material or consider air cushioning (filling sealable bags with air to provide support).
Holiday Cards
The amount of cards sold during the holiday season, 1.9 billion, would fill a football field 10 stories high, and requires the harvesting of nearly 300,000 trees, (Source: CalRecycle). A few creative solutions and purchasing ideas could drastically reduce that amount while still allowing you to keep in touch with your loved ones.
Send electronic cards through a local company Care2.com that generates donations on behalf of sustainable projects locally and around the world.
You may donate unused cards to SCRAP, a resource center that supplies schools, nonprofits, artists and the public. Drop them off or mail them to:

SCRAP
801 Toland St.
San Francisco, CA 94124

Cut out old cards and use them for gift tags.
Save the cards you receive to cut and create new ones next year. Make cute envelopes from magazines.
E-greetings are a fun and informal alternative to traditional holiday cards. The following are some examples of what is available on the internet:
Party Planning 
It only takes a little planning and creativity to plan a no-waste party.
Purchase your party supplies in bulk and buy only what you need. Buying the largest size you can use saves packaging.
Use reusable dishes, utensils, cloth napkins and tablecloths. If you don't have enough, borrow or rent them.
If you need paper products, buy the products with recycled paper content.
Turn the heat down before guests arrive. You'll save energy and your guests' body heat will warm up the room.
Send your guests home with leftovers or bring food you can't finish to work.
Decorate with plants, fabrics and other greeneries instead of plastic streamers, Mylar decorations, etc.
Use last year's holiday cards as place cards.
Holiday Lights Recycling 
Shoreway Environmental Center (at the electronics recycling location)
LED light bulbs are fine, but if you have incandescent light bulbs, the bulbs should be removed.
333 Shoreway Road, San Carlos, 94070
6580-802-8355
GreenCitizen, Inc.
Charges will apply.
1576 Rollins Road, Burlingame, CA, 94010
1-877-918-8900 x 103; 650-493-8700 x 103
Christmas Light Source Recycling Program
10% discount given on new lights when recycling old lights.
1. Take your old, broken Christmas lights and box them up in as small a box that will accommodate the lights. Send them in the cheapest and slowest way to:
Christmas Light Source
Recycling Program
4313 Elmwood Drive
Benbrook, TX 76116
2. Please include your name, address and email address (mandatory if you want the discount code – the company won't save it or sell it). The company will email you a code that will be good for 10% off a single order of Christmas lights (one rebate coupon per household).
Holiday LEDs Recycling Program
Recycles both regular & LED strands for no charge and offers 15% discount on orders of new lights. Send them in the cheapest and slowest way to:
Holiday LEDS Recycling
2300 S. 170th Street
New Berlin, WI 53151
866-492-4330