Flooding
Storms, Rainfall and Flooding
Extreme precipitation events are a substantial threat in San Mateo County and are projected to continue to increase as a result of climate change. Following years of drought, extreme storms and bomb cyclones impacted communities across San Mateo County in December 2022 and January 2023. Falling trees and landslides were concerns with repeated storms throughout winter 2022-2023.
The increased probability of extreme flooding means that creeks and municipal storm sewers are more likely to be overwhelmed. Precipitation-related inland flooding may occur at the same time as coastal storm surge, increasing the total amount of flood water and potentially blocking drainage systems. Rising sea levels are expected to elevate the risk of this type of event.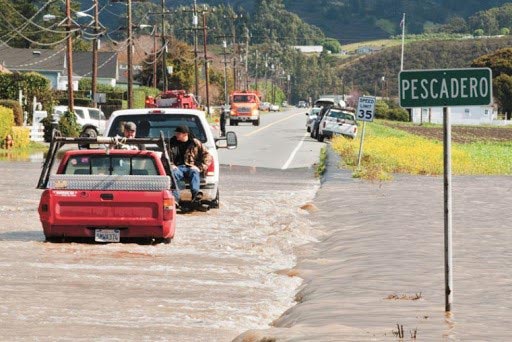 Photo: Half Moon Bay Review
Communities in floodplains and urban areas with high runoff may be at the greatest risk for these impacts; however, socially vulnerable communities that cannot afford to retrofit or relocate their homes and business, as well as people who face barriers to evacuation, may be the most vulnerable to the impacts of repeated flooding events. Learn more about flooding impacts and adaptation strategies (PDF).
Impacts
Health impacts from extreme precipitation events may include:
Exposure to waterborne diseases via sewage-contaminated water.
Skin and lung infections due to increased mold growth in moist conditions.
Vector-borne diseases due to more widespread mosquito growth in standing water.
Emotional and psychological trauma due to a hazard event or post-event conditions.
To support local jurisdictions and communities to plan for flooding events, Climate Ready SMC commissioned traffic modeling for flooding scenarios. The below impacts and adaptation strategies were included in the resulting study. 
Transportation impacts from flooding may include:
Flooded underpasses limiting access to and from highways.
Traffic delays countywide, particularly if one of the points of access to the Coast, or other major arteries, are impacted by a large flood.
Delays in evacuation and emergency response due to flooding and traffic congestion.
Possible Adaptation Strategies
Policy and Communication Strategies
Develop funding and finance mechanisms to help vulnerable communities elevate or adapt homes, buildings, and businesses in flood-prone areas.
Create incentive programs to reinforce structures and homes to minimize flood damage.
Provide improved communication and education to the public of evacuation procedures and routes.
Support microgrids for communications, water, and power.
Provide early and continuous multilingual real-time communication during a flood event of current roadway status and alternative route delays. This can include a resilient communication chain that includes schools, community centers, and common destinations like corner stores.
Transportation and Flooding Strategies
Install green infrastructure that also addresses flooding hazards.
Install porous roadways.
Increase the capacity of local alternative routes to lessen delays for the entire transportation network.
Harden infrastructure vulnerable to flooding events with stronger foundations and enhanced stormwater management facilities.
Improve drainage systems through capacity expansion and expand pumping of underpasses and tunnels and elevation of low-lying road and rail infrastructure.